Recognising Direct Speech
Recognising Direct Speech
19 April 2022 (by admin)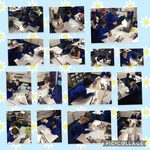 Today Year 3 have began to look at how we recognise and use direct speech in our writing.
We looked at how we use inverted commas to show the start and end of speech to show words there being spoken.
For example:
"I am feeling wonderful today" said Lucy.
We worked together to read a text and find all the direct speech within it.