Year 5 Sponsored Run
Year 5 Sponsored Run
20 April 2022 (by admin)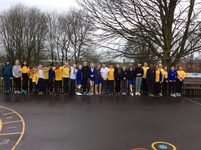 Our Year 5 have completed their sponsored run for Ukraine fundraising today!
They did an amazing job, showing lots of perseverance and resilience along the way. Even though it was raining the children didn't let this dampen their spirits!
Thank you once again for all of your donations, the children have made us all feel incredibly proud!